Inside the house
Views of the interior
Ground floor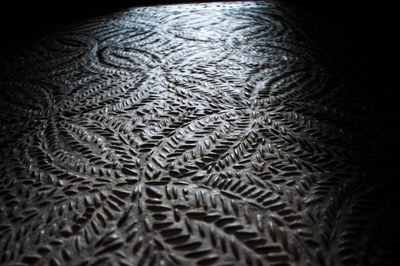 Entrance hall pavement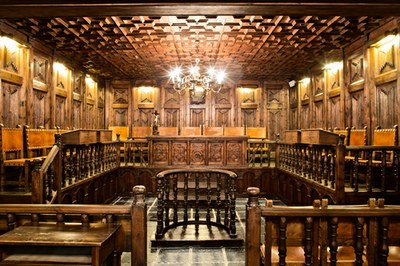 General view of the Criminal Court
The ground floor has pieces of traditional furniture and very unique paving. Here it can be seen how the old entrance area was converted into the seat of justice and the impressive Tribunal de Corts, or criminal courtroom.
First floor
Going up to the first floor, we come to the room of the lost ways, and of notables. There are some murals paintings, before in the adjacent room, originating from the late 16th century, representing the Christ's passion.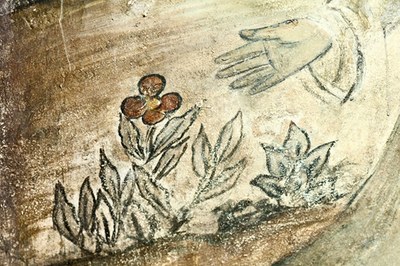 Detail of the prayer scene in the Garden of Gethsemane, in the anonymous murals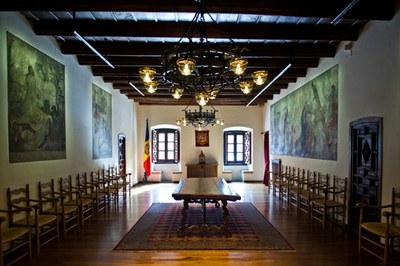 General view of the Passos Perduts hall
On the north side is the kitchen with its impressive hearth in the very centre, where we get some idea of what the food was like, and also of how the political days were organised in the 18th and 19th centuries, with the traditional dress.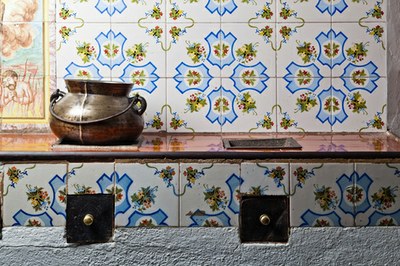 Detail of the kitchen tiles
The assembly room is the nerve centre of the building, the focus point of the age-old presence of Andorran identity. In the earliest texts, we are told that the parliamentary sessions began with the ringing of a bell, which is still in this room, preserved in the 1962 renovation. At that time also, the semicircle was constructed, presided over by the speaker, the "syndic general", and the deputy speaker, the "subsíndic general". Portraits of the co-princes, the Bishop of Urgell and the President of the French Republic, occupy a very prominent position.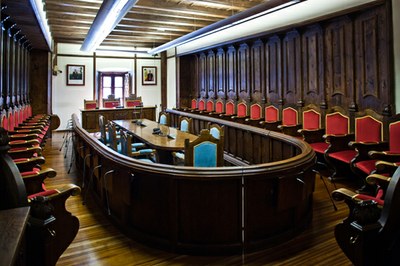 The Chamber
Visit by the French Co-Prince, Nicholas Sarkozy, 29 July 2010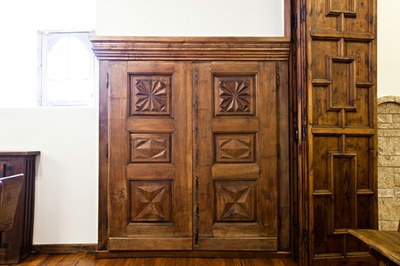 The Cupboard of Seven Keys
For more than two and a half centuries, the room also had the functions of an archive and a chapel. The cabinet of the Seven Keys, one of the symbols of the Consell General, is evidence of this. At the end opposite the presidential chair is the chapel, now not in use.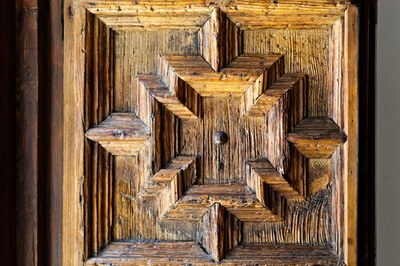 Shutters
On this same floor is the speaker's official office, not on the guided tour, where official visitors are received. This room, however, among other functions, had been a classroom for children in Andorra la Vella.
Second floor
The second floor is the top of the house, a multipurpose. Since its early use as attics, it became a dormitory for the members of parliament, then the first postal museum and later a meeting and conference area.
Attic. Inauguration of the exhibition "Women and politics in Andorra" (Summer 2013) on the occasion of Andorra's presidency of the Council of Europe.